Meyer Base Line 600 & 800 Insert Spreaders

 

Introducing a Reliable and Economical Spreader Line. Powered by a Briggs & Stratton or Honda gas engine or dual-electric 12-volt motor, the BL-600 and BL-800 insert spreaders feature a stainless steel inverted-V and drag chain conveyor system for even distribution of snow and ice removal material.  The extra-large capacity hopper fits into short or long bed pickup trucks and is built to withstand anything Mother Nature can throw at it.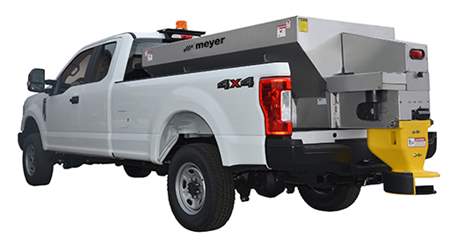 With five models available, the new Meyer Base Line spreaders were designed for professionals who want an all-season, full-featured insert spreader at an economical price.  Made of stainless steel or carbon steel (8' Briggs & Stratton model only), Base Line insert spreaders are built to hold up for years of service.  Choose from 1.5 or 2.0 cubic yard capacities and your choice of engine.
FEATURES & BENEFITS
Extra-large Capacity Hopper
The BL-600 features an extra-large 1.5 cubic-yard hopper while the BL-800 features a 2.0 cubic-yard hopper.  Both are constructed from 16-gauge stainless steel, or if you prefer, the BL-800 is also available in 14-gauge carbon steel.  Both inserts spread salt, sand, salt/sand mix and free-flowing granular materials up to 30 feet.