Meyer Elite Cab & Chassis Insert Spreader

High Capacity Hopper Designed for Highway Spreading. Meyer offers eight different configurations in our Elite Cab & Chassis insert spreader line-up.  All are built using fewer moving parts to keep you on the job spreading.  Hoppers are made of stainless steel and are available in 8' and 10' lengths with 3.5 and 4.5 cubic yard capacities.  Drive options include 10hp Brigg & Stratton gas, 11hp Honda gas, 12-volt dual electric or central hydraulics, so there's a model perfect for your municipalitiy's fleet of trucks.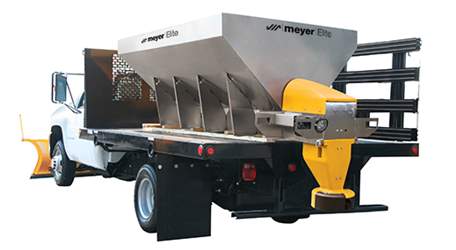 Available in 8' and 10' lengths, Elite spreaders are built to be stronger and more stable with less moving parts needing maintenance.  This premium stainless steel insert spreader allows professionals driving 2-ton and larger pickup trucks more time on the job keeping large lots and streets clear of snow and ice and less time maintaining equipment.
FEATURES & BENEFITS
Patented Brush Auger Prevents Ice Melt Leakage
Ice melt is expensive, and the problem with most tailgate spreaders is that it leaks out of the hopper when the spreader is not in use. To prevent this money drain from happening, the Blaster 350 and 750 both come standard with a patented brush auger that prevents material leakage. The auger's helix design also promotes a better draw down of material from the hopper.
Meet Our Movers and Shakers